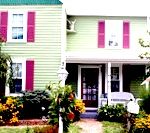 I am happy to report that hubby and I sealed a deal on our new family home yesterday! Woohoo! Do I sound casual about it? If so, I'm lying. It was a horrible experience. Hubby and I looked at over 35 houses and bid on at least six of them before finally being 'accepted' into the mortgage club by a young real estate agent, and a nice bank manager, who both felt sorry for us.
This is our second home. We did the reverse of most of our friends and bought our investment property first, and we have been renting for three years while we have been waiting to buy a family home. Renting has been hard but we didn't want to over extend ourselves because we had a newborn.
Earlier in the week I had mentioned to a friend (an older, richer-than-me and very knowing friend), that 'buying a house is hard work.' He said 'No it's not – if you are willing to pay for it!' I had to agree.
The problem was that hubby and I just didn't want to pay too much for our house. We have been waiting to buy a house for years (we missed out when the boom hit) and so we were waiting for the time to be right (a low market) again. We didn't want to 'come in for the kill' on a property we 'liked' but didn't 'love.'
We wanted to live in a great part of town near hospitals, schools, malls etc. Also near the beach. We wanted enough room to swing seven cats (excuse the cliche) and with a big shed, huge kitchen and a garden bigger than the Botanics.
Were we asking too much?
Probably!
Our patience did pay off and we managed to get most of what we wanted above and we LOVE the house! It is old but it is big! I got my big kitchen and Richard got his big shed. The kids are happy too!
The best move we made in our decision making process to work out what we could afford using a mortgage calculator. Be sure to add stamp duty and mortgage insurance to the equation. These costs alone can amount to around $40k depending on the purchase price of your property.