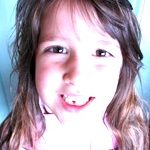 Teeth. You can't live without 'em and you can't live without 'em. Best to just look after them eh? Off to the dentist then.
Recently I decided to face one of my fears and hit my local dentist up for an appointment. Though the staff were very accommodating, I didn't enjoy the first few appointments. Let's just say I was wriggling in my chair staring at a strange man in a mask and spitting in a sink. Uncomfortable.
But as the year went on and as my monthly appointments progressed I got really comfortable in the chair. I figured out that if I closed my eyes and thought about lying on a beach in Fiji I wouldn't notice the invasive drill sawing away at my back molar.
I think it came down to the fact that busy mums don't get to take relaxation time out much and the even though it was a chair at the dentist it forced me to relax, close my eyes and since I couldn't talk it was like meditation! Truly!
Well. There is my little dentist story but since you are here you might as well work out how much to give your kid for the tooth fairy, if you are not quite sure. All I know is: The Tooth Fairy is a hell of a lot cheaper than the year I spent at the Dentist so be generous. Those little teeth are worth your generosity.