Welcome to the Savings Room! These are my hot tips for saving money this Easter.
Fill up with petrol today
Petrol prices have skyrocketed and they'll be even more expensive if you fill up just before the Easter break. To save big on your Easter road trip, fill up on petrol today if you haven't already.
Pack your car boot with grocery non-perishables
Here's the quick list of items I pack in my car boot before a road trip so you won't overspend at the servo:
Bottles of water or a bulk bottle of water
Snacks for the kids
Baby wipes (always super handy for spills in the car)
A cold six-pack of ginger beer
Drinks for everyone (if water isn't your go-to drink)
Longlife milk (because often motels and hotels don't give enough.
Bulk buy beverages e.g. Wine and beer
Esky – filled with home supplies such as butter, milk and vegemite
A grocery bag packed with cereal and non-perishables from cupboards at home
Thermos, coffee and tea for stops along the way.
Shop at home for crafts and get creative
Don't be afraid to use what you have around the house for making Easter creations look more amazing. Consider doing this:
Decorate Easter hats with tinsel (e.g. white tinsel leftover from Christmas.
Use up plain leftover gift paper for table runners – such as pastel blue or pink paper.
Use Google shopping filters to find bargains
Here's a list of items that are cheaper to buy: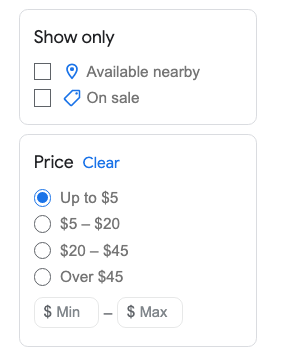 $12: Easter Friday fish fingers, chips and salad (with leftovers!) for a family of four.
If you are on a super tight budget and love to eat fish on Easter Friday consider fish and chips. Here's what this will cost you:
Total cost:
1kg fish fingers $5.40
570g chunky potato wedges $2.00
750g family salad kit including dressing $4.00
Add mayo and sauces from your fridge and pantry.
Do an online 'Easter Hunt' to snap up online bargains
Shopping online is the fastest way to find bargains and specials. Go to the specials tab at your favourite supermarket or variety store to find bargains.
Find the specials before heading to stores.
Shop with a list using the research you did before.
Also, shop using junk mail as the specials will also be listed there.
Don't spend more in petrol to grab those specials.
Consider getting groceries delivered to save money on petrol, parking and coffees while shopping.