I've got great news. It's almost that time of year we all get to put our feet up, dip into a delicious bowl of prawns or pavlova and enjoy some well-deserved relaxation. I'm picturing myself sitting by a pool this Christmas day (sunnies on and Champagne in hand), watching my kids frolic in the water while I enjoy some nice chats with my family. As I am not hosting Christmas this year, this means I get to relax even more. Double yay!
However, if you are like me and traveling to a gorgeous location (I'm heading to beautiful NZ) you might be frantically running around the house packing with security at the top of your 'leaving list.'
Read on to discover 10 proven ways to secure your home before leaving these holidays and also some awesome tips for long-term security of your home. These tips will also reduce your annual insurance premiums, so they are well worth the investment in the long run.
Tip 1: Invest in high quality fencing and a secure front gate
It is vital to invest in solid, high quality fencing and a secure front gate. This makes it really difficult for prospective thieves to contemplate entering the property in the first place. Electric gates with automatic openers are a great choice because they are both secure and offer the convenience of opening automatically when you come and go each day.
When you are home these also offer the added benefit of securing you upon entering your property, particularly at night. You won't have to get out of your car in the dark to open the gate into your home. Companies like Delta Warringah offer a wide range of high-quality secure front gates and garage doors. They also deliver helpful hints to assist you in making the right decision.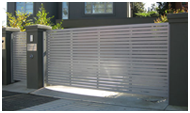 Image Source: Delta Warringah
Tip 2: Invest in a high quality automatic garage door
Once inside your property a secure automatic garage door is also a great choice. These not only secure the valuable belongings in your garage, but as above offer the added benefit of a secure entry into your home. Many modern homes with garages attached, mean occupants can drive through an automatic gate at the front of the home and then into a secure garage, which has an entry into the home from within the garage. Many modern townhouses feature the garage as gate at the front of the property, which offers a very convenient option for residents. There are many types of automatic garage doors including sectional overhead doors (with panels that slide up and back), roller doors and tilter doors (which feature one full width panel that slides back.)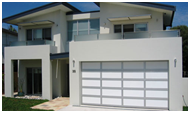 Image Source: Delta Warringah
Tip 3: Consider installing a camera security system
You can pickup a system like this relatively cheaply on sites like eBay. They offer peace of mind and surveillance of your property when you're not there. Prices start at around $165 and having a system like this can also reduce your insurance premiums, so in the long run the security system will pay for itself.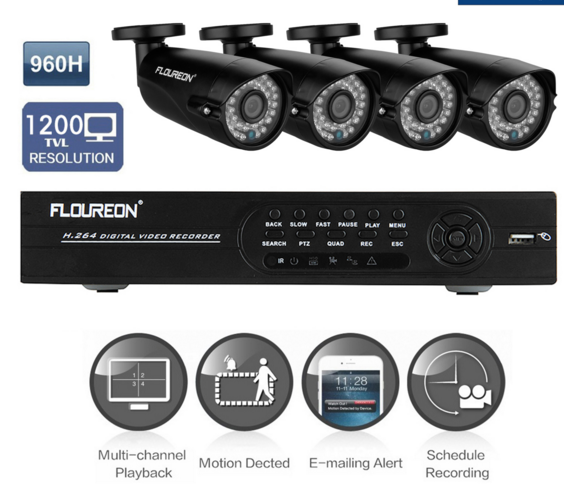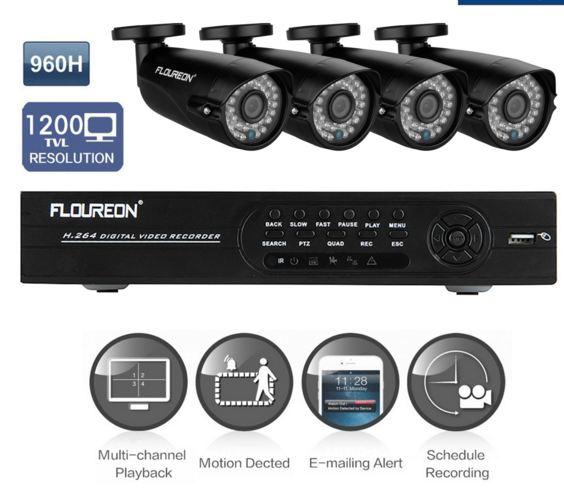 Image Source: eBay.com
Here's what a system like this does:
Description:
Setup a CCTV DVR security system to protect your home,shop and office.
Complete H.264 CCTV kit comes complete with 4 night vision security cameras. Backup Via USB Drive. Remotely activate and View Via the Internet from anywhere and anytime.
Support P2P technology, the CCTV DVR can be linked through the internet without any complicated port mapping.
Support 8 channel simultaneous live viewing via your smart phone.
Support  Capture , Record and  Remote Video Playback in your smart phone.
Support Cloud System For Remote Access.
Support 8 Channel Simultaneous Playback.
Support HDMI Output/RT3070 Chip USB Wireless Network Card Adapter.
Easy to install, simple to use and at a low price.
Source: Ebay.com
Note: If you can't afford a real security system, you could always purchase fake or 'dummy' cameras on eBay for around $20 or less.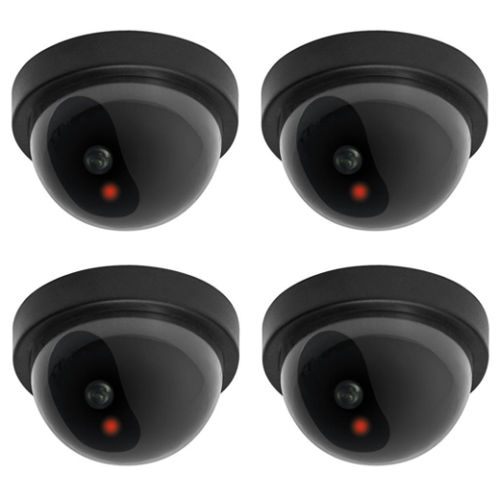 Image Source: eBay.com
Tip 4: Put up signs around your home
Whether you can afford a security system or not, putting up signs around your home can be a real deterant too. Simply go to 'Google Images' and search for signs. Put the signs on front gates, the front door and obvious windows.
Here are some that will deter thieves whether you have a system installed or not: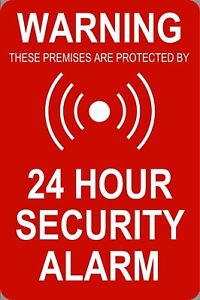 Image Source: eBay.com
Beware of the dog signs are great too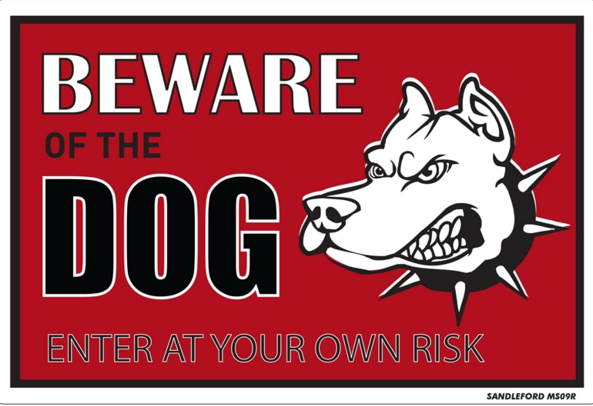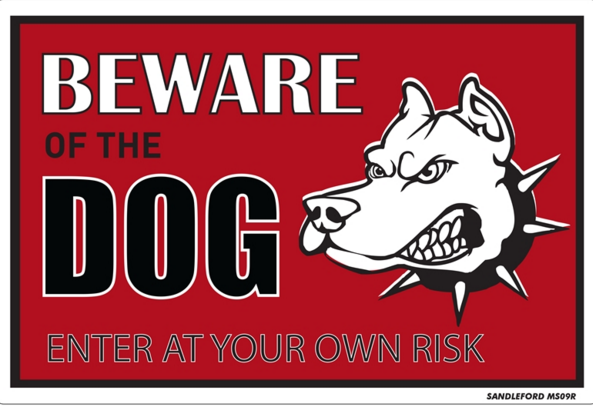 Image Source: Bunnings.com
Here are 20 more quick tips for securing your home:
Triple check that your home is securely locked at all entry points before leaving.
Make sure all power points are switched off while away to reduce fire risk.
Install security lights, which turn on when there is any motion outside the home at night.
Invest in some lighting timers to switch lights on for a period of time at night.
If your radio has a timer use that too.
If you have an extra car, leave it parked in the drive way (Hide the keys or take the with you!).
Invest in a safe (fingerprint version) and hide it in the roof or under floorboards.
Invest in a dog barking alarm if you don't have a dog.
Ask a neighbour to remove mail and junk mail from your letterbox.
Consider leaving keys with a trusted friend who can inspect the property while you are away (Give that person your 'away' phone number if its not your current one).
Don't make your departure obvious. Pack your car behind a gate or in the garage.
Don't pack your car the night before and then leave it in a driveway. Your car could get broken into and you will also be telling local thieves you are leaving.
Photograph rooms before leaving so in the event you do get robbed, you will remember what you had in those rooms and what you have lost.
Consider hiding really valuable possession's in the roof if you have man hole (thieves may not consider the roof or have time to climb around in a roof).
Ask a neighbour to park in your driveway if they have a second car.
Consider engraving or marking belongings to deter thieves selling off gear at places like Cash Converters.
Consider investing in security doors.
Ask your neighbours to 'keep an eye on' your property while away.
Check your content insurance is up to date before going on holiday
Install deadlocks.
Cut back bushes and trees, which might obscure your front door. Thieves target doors they can't be seen breaking into.
Empty the recycle bin before leaving. Don't leave personal information in the bin, which makes it easy for thieves to steal your identity!
Secure back sheds that have tools in them. Thieves often go there first to get tools to then break into your property with.
Lock your car – especially if it has your garage door opener inside it!
If advertising your home on places like AirBNB – never put the address in the description.
Don't advertise your departure on social media. Hackers know how to find stuff out – like your IP address (exact location where your PC is).
Bonus Tip:
Consider installing software on iPads and computers E.g. Find my Mac. So in the event your gear does get stolen, you can track it. Make sure passwords for accessing computers are also up to date. Backup your computer to the Cloud too.