There's nothing like a room makeover than a speedy or instant one. I've gathered some of my favourite tips from the renovations going on at my house this year. Read on to discover my best tips for speedy room renovations on a budget including how I scored a kitchen for FREE this week!
Add new lights and lamps
Lighting is by far one of my favourite ways to create an amazing mood in your home while doing that within budget. If you are a fan of shows like The Block, you will know how a light can make or break a room. Consider replacing lampshades for a dramatic new look or adding an amazing chandelier above a dining table. Bead lighting in a kitchen can add dramatic effect to a splashback. Don't forget to think about lighting in your outdoor entertaining area too. Since Aussies spend so much time outside in summer, reinventing your outdoor lights can really improve your experience or those of your guests outside. Companies like Urban Lighting in Sydney offer a variety of amazing lighting options at affordable prices.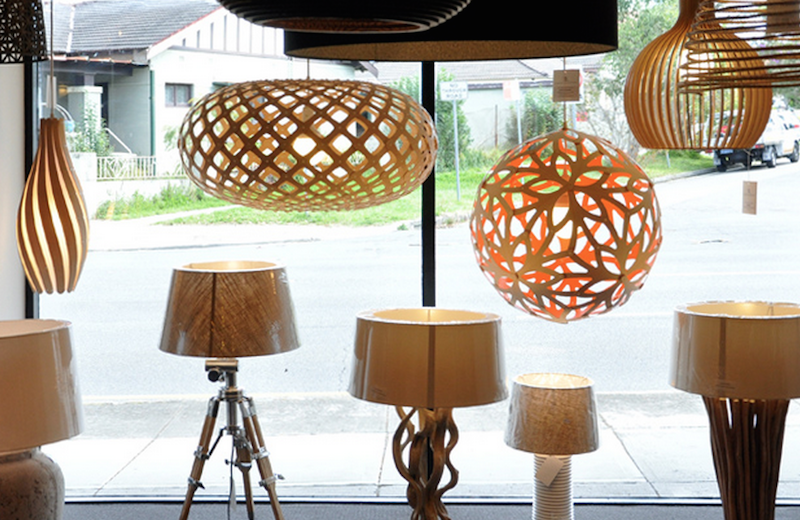 ---
Digital prints
Digital prints can give a home a fast makeover without too much expense. Invite the world in by choosing any image online that suits your taste. There are a wide variety of companies offering digital printing services at affordable rates and many of them can send the print via courier or post. Make sure the image you choose is of the highest resolution and quality. Digital printing services also have a large number of ready-to-order images, which might be suitable. Such prints can also make the room look much bigger, such as in the example below.
---
Fabric on a wall
If you are renting, adding colourful fabric to a wall is a fast and removable way to completely change the look and feel of a room. As we are short on storage this year at our house, during the renovation I also staple-gun cute fabric to the front of bookshelves to hide what's inside. This makes the room appear cleaner and is a good temporary solution to permanent shelving.
---
Couch covers
If your couch is still in good knick you might like to consider couch covers or making your own covers. This can drastically reduce the cost of buying a new couch and give a room an instant makeover. Plus couch covers are really on the improve now and many look trendy as opposed to some of the daggy versions of past eras!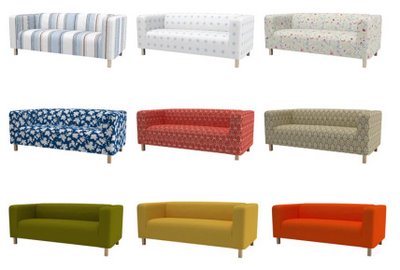 ---
Cushions
Don't forget the power of a great cushion to give the room and instant new look.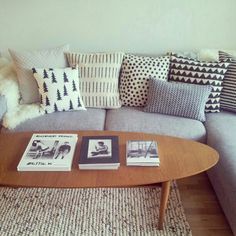 ---
Kitchen splashback
Kitchen splashbacks can be an expensive exercise. We discovered a great way to create a splashback for our new kitchen using pressed metal. This stuff looks cool, is durable, wipeable and we scored ours on eBay for under $200.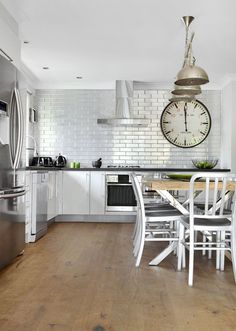 ---
The fridge
If your fridge is getting old and scratched, you can turn it into a cool piece of functional art with chalkboard paint!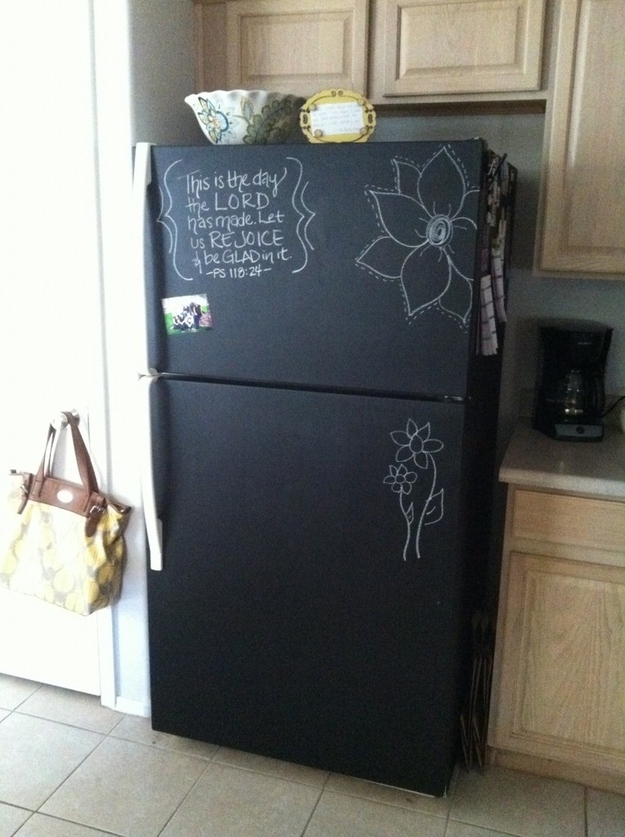 ---
The Dining Room
Place some wood over a boring white table to give your home that shabby chic look.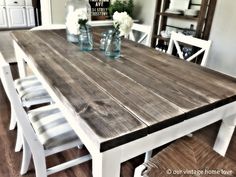 ---
Reclaimed Wood Kitchen Bench
Instead of spending money on expensive benchtops make your own with reclaimed wood. This can look amazing and you'll get your benchtops at a fraction of the cost. On that note, in our home rather than ordering expensive custom benchtops, we are buying 2 x standard benchtops at Ikea and joining them together. However to make the look more interesting, we are placing a kitchen herb garden down the centre! So that when we are cooking we can easily grab fresh herbs. This also makes for a super cool and interesting dining experience.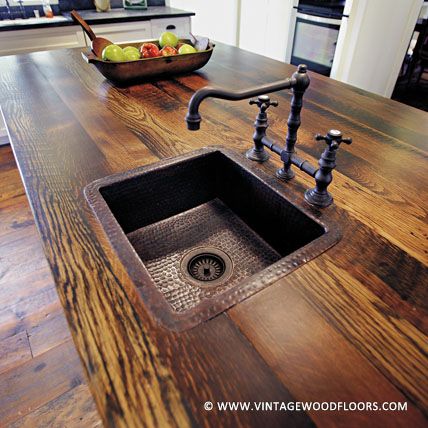 ---
Vinyl flooring
If your floors are looking drab consider investing in a piece of vinyl flooring to give the room a complete new look and feel. You can often pick up vinyl flooring remnants off sites like Gum tree, when people have amounts left over after a renovation.
---
Paint a laminate Bench
Did you know you can paint laminate benchtops instead of buying new ones? Watch this video on how to do just that.
---
Paint tiles
The same goes for tiles and also bathroom shower boxes. Yes, there's paint for that! Consider this if you are on a low budget and can't afford a tiler or tiles.
---
Free items
Finally, it is amazing the stuff people will give away for free. This week I scored a complete kitchen for our 2nd kitchen we are planning in our home for FREE! Yes! This saved us approximately $2000! The kitchen included cabinets, rangehood, wall oven and the benchtop. I also recently scored a FREE desktop gaming computer for my son for FREE from a gentleman in our area who runs a computer store and just gets rid of computers from time to time. The computer was completely updated with Windows 10 on it and perfect for our needs. Sites like Gumtree and Zilch both offer items for free, but be quick, these go fast!