Your living room is a personal space that has more power then you realise. Because we spend a lot of time in the living room, what seems like 'just a place to hang out', can actually have an incredible influence on your mood daily. But don't despair. There are plenty of ways to change things up on a budget, so you can enhance your living room mood-making capacity. Whether you don't have the cash to renovate, or you just don't like to pay full price, here are some great tips on ways you can revamp your living room without spending too much.
Rearrange your furnishings
The easiest way to change up your living room without spending is to rearrange the layout of your furniture. If you can, take everything out of the room and then return items one by one. The first thing to re-enter the room should be the piece that defines it – whether that's a substantial coffee table, the sofa, or your favourite artwork. When you've returned furnishings to the room, leave them to settle and then come back in an hour or so. Time away from the space will let you see it with fresh eyes, and then you can decide whether you still need to make changes.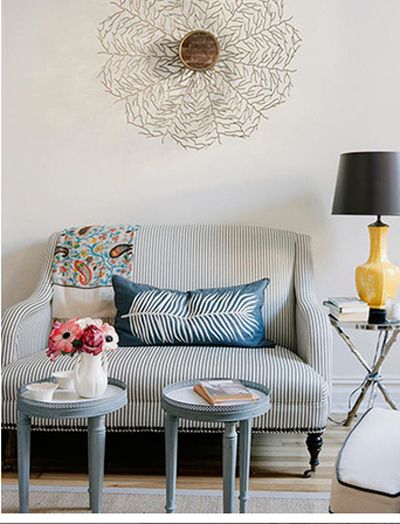 Image Source: Pinterest
Switch up your cushions and throws
Sometimes rearranging furniture will not be enough to save a living room that's in need of a bigger makeover. Instead, try lifting the feel of your room by accessorising your couch. A change in cushions and throws can make a big difference simply because it resets the room's colour scheme. If you're looking to make a statement, pick one key piece (like a quirky velvet cushion or a boldly patterned throw) and then choose a few extra accessories to complement it. If you're often in the mood to redecorate, keep your eye open for sales and stock up on cushions. Then when you feel like a change in your living room, it'll be as easy as visiting the cupboard and changing your couch décor.

Image Source: Arrohome.com.au
Add distinctive ceramics
It doesn't always take large statement items to revamp the mood of your living room. One or two ceramics can really set the tone – especially if you're choosing pieces that are distinctive in colour or style. If you're the type of person whose house is always full of flowers, then choose a bright vase to keep them in and place it somewhere central. For example, you could place your vase in the middle of your coffee table or on a fireplace mantel. You can also use glass vases or tumblers to hold candles and tea lights. Even when they're not lit, the candles will make the room look and feel warmer.

Image Source: Arrohome.com
Change the floor with a rug
Some people think of living room makeovers in terms of tearing out the floor and gutting the entire room. Old carpets and worn floorboards aren't a great look. But you needn't take such drastic action, especially if you are on a budget. Instead consider covering floors with a rug.
When choosing rugs, here are three simple points to keep in mind:
If your room lacks light, steer clear of noisy or dark patterns. Instead opt for something more neutral, like a natural jute rug.
If you have more natural light to work with, consider a bigger floor pieces with organised geometric patterns.
Look for pieces that will add structure to the room, draw your furniture together and distract one's eye from a weathered floor.


Image Source: Arrohome.com
Consider a feature wall
If your living room needs a more drastic change but you can't afford a full-scale renovation, you may be the perfect candidate for a feature wall. Sounds expensive? It really doesn't have to be. A single painted wall can do a lot to improve the feel of the room. If you're renting and don't have permission to paint, you can still create a beautiful space with distinctive decals or removable wallpaper.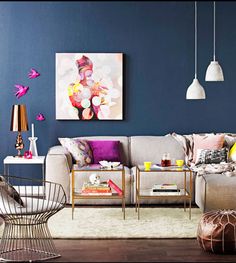 Image Source: Pinterest
Revamping your living space should be a fun and frugal experiment rather than an expensive nightmare. Just remember to keep things simple and don't be afraid to move furniture around. With a little patience and creativity, you'll create an inspiring and mood-enhancing space that will get others talking.
Good luck with your budget living room makeover!
Arro Home is a Melbourne-based homewares and lifestyle label focused on creating personal, modern pieces in signature prints and designs. At Arro Home, we're governed by imagination, driven by style, and passionate about encouraging people to author their own homes. Find out more at arrohome.com.
This post was written in collaboration with arrohome.com