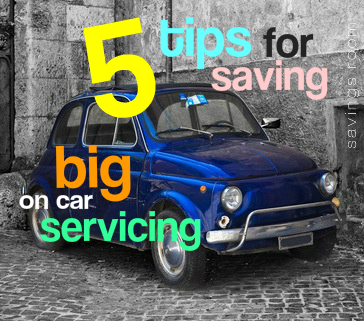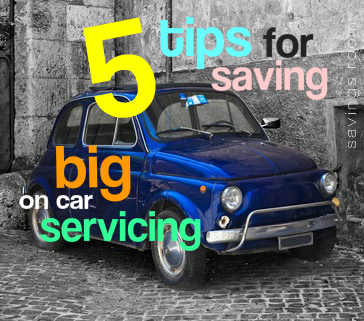 Does the thought of paying for your next car service send you into a financial flurry?  Well fear not! Too-high mechanic bills need not add to your list of worries and that pile of bills sitting on your desk. Like all products and services in this savvy modern era we are living in, you can dig around online to ensure you find a little gold in your hunt for auto savings. Also, if you spend a little time learning how to get under the hood and you don't mind a little grease on your hands, you'll reap even more savings for your stash!
Here's my dirty little list of tips for achieving big savings on car servicing.
1. Stay up-to-date with servicing
The easiest and most obvious way to save money on repairs is to take your car into a mechanic for a regular service. Simple actions like changing the transmission fluid, filters, and oil will keep the engine running at peak performance. This is also a good test for keeping the cost of future services down. For example, if you take your car into a different mechanic shop than you normally use for a simple oil change you most likely will be presented with an inflated bill. You'll feel ripped off and its likely you won't use this service again. On the other hand, taking your car in for routine visits to a reputable mechanic you know will build trust. This will pay off in discounts over time when more serious work is required.
2. Shop around for quotes
If you have an idea of what could be wrong with your vehicle, the next step is to shop around online and secure numerous quotes. You'll be surprised how prices will vary for the same job. Call different mechanics in your area or use price comparison websites for quotes. When you receive an estimate, be sure to check that this price includes taxes, the cost of labour, and also parts.
3. Find a shop you can trust
Good old-fashioned word of mouth is still one of the best methods for securing a trustworthy mechanic or tradesperson. Ask friends, co-workers and family if they have a particular mechanic or auto repair shop they 'swear by.' Alternatively, book your car into a dealer who specialises in your car's make and model. Their relationships with parts suppliers will save you money. Also read online reviews to attain customer feedback on your proposed mechanic.
4. Buy your own parts online
One of the steepest costs associated with auto repair is the cost of parts. Look at auto parts websites or auction sites like eBay to get parts at a discount. Be sure to factor in shipping costs and tax. Check return policies prior to ordering in case the part you ordered isn't quite right. Tyres can also be found online at reduced prices so again, shop around and do your research before taking the plunge. For example, you could check price of your next Pirelli P Zero with Tyresales.com.au and similar sites, if you are in need of that particular tyre brand and you'll reap the savings by doing the comparison checks.
5. Do it yourself
Even if you only have a basic understanding of cars, you can learn how to do basic repair jobs on your own. For example, changing the air filter and switching over wiper blades are tasks easily accomplished by a car owner. If you have any questions, you can look at online Youtube tutorials or ask someone who is savvy with fixing cars to show you how to do basic repairs and maintenance.
With a bit of preventive care and a sharp eye for online bargains, you can save a big on auto repair and keep your car running in top shape for a longer period of time.