Recently I've been indulging in a little 'me time' between the demands of work, business, laundry, dinners, school drop-offs and pick-ups, weekend events and kids birthday parties.
One of my favourite 'me time' things to do is sit for a moment and soak up a great book. Though I'd love the time to read a totally indulgent novel, most of my reading time is taken up with reading high quality and focused material that will help me to develop further as a writer, mother, wife, parent, business person and all the other hats I'm wearing right now.
Due to my busy lifestyle I tend to read in 'bite-size' chunks, which is why I loved 'On Your Own Two Feet' by Helen Baker.
This book is an easy-to-digest, pick-up and put-it-down book for all women and busy mums like me, who need to know everything about gaining control of their finances and fast.
On Your Own Two Feet helps women in various situations take control financially with the premise (by Kim Kiyosaki) that 'a man is not a financial plan.'
The book is for all women including women who are:
Divorced
Separated
Widowed
Single
Newly single
Married
Preparing for Aged Care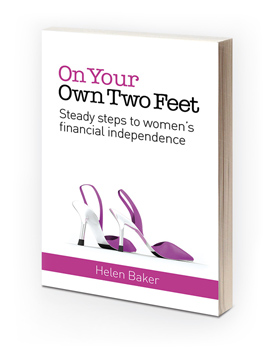 ---
On Your Own Two Feet is a very well organised book and covers:
Section 1: Stepping out on the right foot
Money matters – the issues women face
Changing your mindset
Setting the foundations right
Section 2: Ages of Womanhood
In your 20s and 30s
In your 40s
In your 50s and 60s
In your 70s and beyond
Section 3: Life events and their financial impacts
Living single
Divorce
Redudancy
Working for yourself
Terminally ill
Grey Nomads
Widows
Aged Care
Receiving an inheritance
Section 4: Building Your Financial Future
Finding options that suit you
I would highly recommend this book to all women, whether you purchase it for yourself as a quick handbook and reference guide as you move through life or even as a gift for a mother, sister or friend.
I consider this book 'a must-have insurance plan for women' at the fraction of the cost of what the alternatives could be for women who might be unprepared for life events.
"A must-have insurance plan for women."

Author & Blogger – Penina Petersen
For more information about this book visit www.onyourowntwofeet.com.au 
I'd also like to take this opportunity to congratulate the author Helen Baker for providing such a wonderful and practical resource for helping all women out there secure their financial futures.