If you love to reinvent yourself there are plenty of ways to achieve this goal and on the cheap. One way to reinvent yourself is to invest in a set of beautiful contact lenses to add some pizazz to your day, open up new opportunities with a great first impression or to simply add an element of fun to an upcoming social event.
Here's a review of my recent experience buying dazzling new contact lenses at Mr Lens, a one-stop shop for all things lenses online.
But beware:
Contact lenses are a little addictive and you might find yourself coming back for more!
Mr Lens is a fun place to shop, as the possibilities (in terms of personal transformation) are endless.
Overall?
Shopping at Mr Lens was an online experience well worth my time and money in terms of service and value for money.
What's on offer?
Mr Lens offers very affordable lenses, glasses and shades online via a simple search and checkout process.
There are various reasons why a person might want to invest in contact lenses.
Here are a few interesting reasons to invest in contacts:
They are a very affordable way to achieve a new look
Beautiful eyes will give you an instant boost in confidence
They are fun to wear to a special event
They are comfortable and easy to take care of
They give you a brand new look instantly
You can get the look celebrities are wearing the world over
First impressions count and your eyes are key
You can impress friends and strangers alike
You can add some color and an element of fun to your day or night out
When shopping for contact lenses at Mr Lens you will find a world of wonderful colors to improve your beauty and confidence.
What's on offer at Mr Lens in terms of lenses and solutions?
Here's a quick list of what's on offer at Mr Lens:
Daily Disposable
2-Week Disposable
Monthly Disposable
Toric Lenses
Multifocal Lenses
Colored Lenses
Long-Term Lenses
Fun Lenses
Eye Care Products
Lens Accessories
Lens Cases
What's of offer in terms of dazzling and inspiring eye colours?
Natural / Enhanced Color Lenses
If you want to enhance the natural look of your eyes or grab a new eye color that is more natural there are plenty of colors available including, but not limited to:
Green, Grey, Black, Blue, Baby Blue Party Green, Sweet Honey, Pretty Hazel, Sexy Brown, Elegant Blue, Natural Ring, Elegant Brown.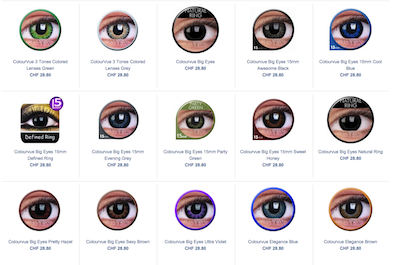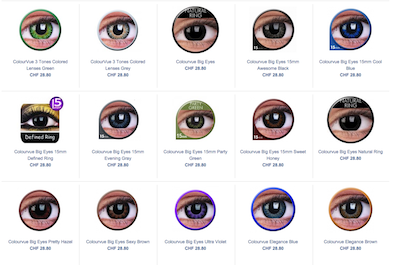 Party / Fun Lenses
I loved their fun lenses range, which is perfect for a special event or occasion.
Check these out!
Colors such as Blackout, Cat Eye, Solar Blue, Viper, White Zombie, Glamour Blue, Green or Grey, Eclipse, Emerald, Green Dragon, Werewolf, Hulck Green, Mad Frog,  Red Devil, Sautons Eye, Sky Blue, Space Blue, Glow Blue – will certainly make a statement!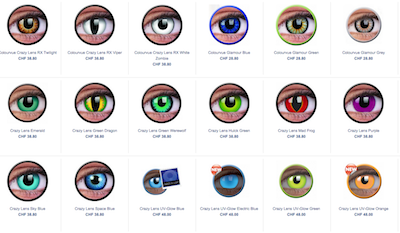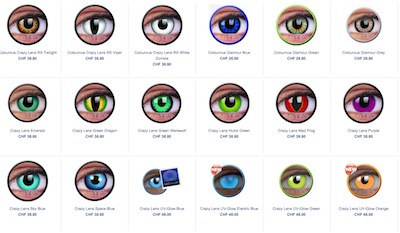 Astigmatism & Strength
There is also a wide range of solutions available for those people who have an astigmatism. These lenses have a special curve if you happen to have an odd-shaped eyeball – like me! You can also purchase lenses with or without magnification. Further, you can choose a lens specific to your eye type including choosing diameter, your base curve and lens power.
Brands
Mr Lens offer a wide variety of brands including:
Acuvue, Air Optix, Soflens, Freshlook, Biomedics, Freshkon, Blincon, Maxim, Focus, Igel and Proclear. 
Checkout Process
The online shopping process at Mr Lens was simple and easy and my lenses arrived promptly – roughly within a week of purchase (note I live in Australia). There were clear instructions for the lenses and I found them very comfortable to apply and wear.
I highly recommend Mr Lens if you are purchasing contact lenses and associated products. They offer a fabulous range of contact lenses and eyewear and are a fast and trustworthy service.