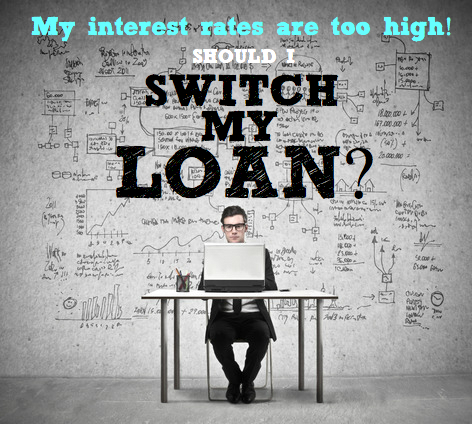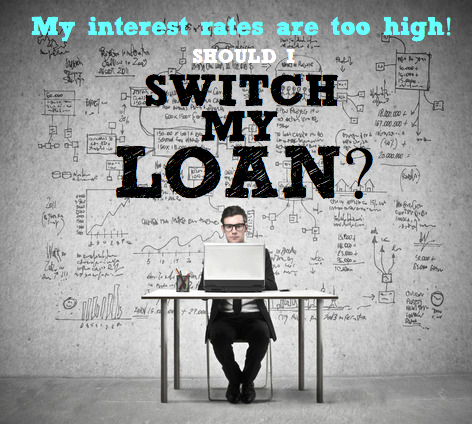 Interest rates for our mortgages are too high, so I'm on a big mission to get them down. In April this year we bought our dream home. Well it's not a dream yet, since it is a renovation project, but it will be soon! We looked at a total of 35 houses before settling on a nice home, which we hope will be our family home until our kids spread their wings out in the world.
The process of buying a home was long and tedious. Let me rephrase that: It was a nightmare. We had actually purchased an investment property first back in 2008, which was a cute little duplex in country Victoria. But buying a home in an urban area turned out to be whole different drama in comparison to our little regional experience.
We met many real estate sharks, cashed-up house hunting gurus and spent money on a multitude of reports to make sure the investment we were making was the right one. We got really good at making bids on homes and fast! But the biggest battle we had was with our bank and their tiring processes. We learned a lot of hard lessons that will never be repeated.
Recently we decided to go through the process of a mortgage refinance on our investment property (the duplex) and also our new home. We wanted to find the lowest interest rate in Australia! Since I wanted to find the best home loans, I got busy searching online, since I didn't quite know where to start. While doing a search online I found a company called Switch My Loan, which seemed to offer a solution for greatly simplifying the process. Their company name seemed pretty self-explanatory, so I filled out a form on their website, which promised that a rep would call me within the hour.
After many experiences of promises online, I was delighted to actually be called within the hour and by the founder of Switch My Loan himself, Daniel Jovevski! Daniel was very friendly and easy to deal with. He gave me as much time as I had, which was 20 minutes before having to pick the kids up from school! But he would have stayed on the phone for as long as I needed him. He was very professional and thorough.
To be honest, I couldn't believe the personal service received and how prompt the response was compared to the many virtual online services out there.
Daniel thoroughly asked questions about our mortgages and circumstances and was able to offer immediate and valuable advice. He was honest and upfront with his advice, which he followed up with emails and further documentation within 24 hours.
I am very happy to endorse Switch My Loan as a highly professional company and one to certainly think about using if you are thinking about switching your loan!
This is my interview with Switch My Loan, which delivers all the information you need to get in touch.
Note: We'll be saving close to $180 a week by switching both our home loans! So if you are thinking of switching your home loan, this is an exercise well worth putting into action, and sooner than later!
What is SwitchMyLoan.com.au and what do you guys do exactly?
SwitchMyLoan.com.au is one of Australia's favourite home loan comparison websites. As a former Banker for NAB and BankWest, Founder and CEO Daniel Jovevski always knew that Australian homebuyers didn't always get the best home deals with the lowest interest rates and didn't have the time to shop around for a better one.
Daniel founded SwitchMyLoan.com.au to provide Australians a one stop shop for comparing different loan products so they could find a better deal, conduct a home loan comparison via interest rates comparison tools. We help people compare products from 17 different lenders as well as enable them to make informed purchasing decisions before they refinance, invest or buy a new home.
How are you different from mortgage brokers?
Over time, we see that mortgage brokers may go out of business as consumers become more financially literate, and take control of their own purchasing decisions when it comes to financial products. SwitchMyLoan has positioned itself as an online resource for customers to do just that. Our customers deal directly with a bank of their choice and explore the full range of products such as transaction accounts, credit cards and insurance products that the lender offers which, in most cases a broker cannot.
Absolutely FREE service: If a customer successfully ends up switching their loan, the bank pays us a small fee. That's how we make our money. It's no cost to the customer.
Experts in refinancing: Mortgage brokers predominantly focus on getting people a new home loan from scratch. While we do the same, our main focus is actually on Australian borrowers that already have a home loan deal who could do better and save thousands.
Exclusive rates: Mortgage brokers generally go by the industry rates a customer can access themselves by approaching the bank directly. Whereas we often pre-negotiate exclusively low interest rates only available through ourselves.
Educating homebuyers: We have a unique blog service on our website that isn't so much aimed at procuring business as it is to simply educating homebuyers so they can make informed choices. While we accept that some Mortgage Brokers often do run blog services, the end goal is to somehow attract business whereas our blogs are principally driven by a commitment to promoting the public good.
Direct contact with the bank: Mortgage brokers generally remain involved in the loan application process till the end and often don't put the customer directly in touch with the bank. Whereas we retreat from our involvement as soon as the customer is content with the chosen home loan product. We simply pass on the customer's details to a Mobile Banker from the lender of their choice and the rest of the transaction takes place entirely between the Customer and the Bank.
Ease, simplicity and speed: As a standard practice, mortgage brokers almost always want to meet you in person, have a coffee, have lengthy conversations sharing detail a lot of which ends up proving itself to be superfluous in the end. The customer is often required to fill out different kinds of forms and wait ages before moving forwards. Whereas our process is simple, it can literally be sorted within minutes over the telephone or online.
How does Switch My Loan work for the consumer?
There are two main products on our website. The home loan comparison tool and the free web-based enquiry form called Rate Contender.
The Home Loan Comparison Tool built in-house brings together over 240 home loan products from the major and non-major lenders in one place. It contains detailed information on each home loan product with all the key features and lets the homebuyer compare and select which they like the best.
The Rate Contender enquiry form is a simple web-based form that requires that customers input their name, contact number, email and current loan amount which generates a lead on our system. One of our Customer Service Specialists then phones the customer back within one business hour offering a list of home loan products to choose from.
What are your hot tips for avoiding common pitfalls when taking out a loan?
Save up at least 20% of the total property value you want to purchase as borrowing 80% will save you Lenders Mortgage Insurance (LMI).
Explore all the different products from a range of banks that are relevant to your individual needs and then make a decision.
Plan ahead don't make rash decisions when it comes to searching for your home loan provider. Make sure you look at a range of options that suit your specific needs. It¹s very easy just to go with the bank you have your savings account with, however you might not be getting the best deal.
The following checklist published on our website is useful for first homebuyers: 
Checklist for First Home Buyers
What is Switch My Loans point of difference compared to similar sites out there?
Many of our competitors take longer than one business hour to respond to client queries. They do partial market research and expect the customer to fill out cumbersome details using an online form just to find the right deal they are looking for and do not all put them directly in touch with the prospective bank. Many of our competitors simply go with the same interest rates as available to the customer in the market at large, whereas we often pre-negotiate deals to offer our clients exclusively low interest rates. Our competitors predominantly run blogs to attract customers, whereas we write extensively on topics that help them make informed decisions regardless of whether or not we win them over as clients. Finally, most of our competitors don't interact with their customers offline, which is sometimes required in order to get a better picture of where they current are, and what they want. People are often amazed, when the see some of videos that the team promotes on blogs and ads, only to find out that they actually deal with them over the phone!
Is there anything else we should know about SwitchMyLoan?
It is important to note here that the short period we have been around the market has already witnessed the referral of over $106m worth of home loans saving Australians millions of dollars that would have been squandered on an undeservedly high interest rates. SwitchMyLoan is not another business, it is a mission – one aimed at making the life of Australian homebuyers easier by empowering them to get a better deal on their home loan.
To get in touch with SwitchMyLoan please call 1300 307 155, or visit their webpage www.switchmyloan.com.au
Note: I wasn't paid any money to write this article. I just like these guys.