If you love to make money but you are tired of slaving over a desk each day in a job you don't really like, you will love these hot finance tips! I'm about to show you how to make at least $350 in savings and how to do it without an extra minute or hour of working!
Forget spending more time with a boss who micro-manages you! If your kids need clothes or you'd like to pay for that summer home extension – these savings tips will help you make money fast!
Say hello to fat-free finance!
Avoid working extra hours and make money the easier way
Many well-meaning penny-pinchers out there who want to make money think in terms getting an extra part-time job making pizzas, doing telemarketing while the world sleeps or trying to fatten their bank accounts with quick rich schemes online.  While these extra hours (which are all taxed!) will help make money they will only add more stress to an already busy day.  Then there are the associated costs including petrol and lunches, which can reduce the impact of these make money goals.
No. I have a better way.
Every quarter I go through everything in our accounts. Rather than spending an extra day at work, I spend it sitting at my computer on a spreadsheet (or at GetPocketbook) going through my finances with the precision of a surgeon.
To make money and receive $350 in savings you will need
A landline preferably for making 1300 or 1800 calls to suppliers.
A computer for looking stuff up online and visiting comparison websites.
A notebook for jotting down numbers and savings!
A day in your life with no distraction.
Why it is hard to make money and savings when we get lazy with finances
While you are busy living, there are plenty of supermarkets, petrol stations and electricity companies all cashing in on your lack of time.
Finances easily can get out of control when we are busy. Firstly, we don't get a lot of time to be checking those accounts. Secondly, often is is easier to go out for lunch after Little Athletics than to get up an extra half hour earlier and pack a picnic lunch for the whole family. Sometimes we just say "Stuff it! It's the weekend! I'm tired, over it and I'm sleeping in!
Well that attitude of 'stuffing it' can add up to thousands of dollars over the course of a year and could be the difference between reaching your goal of putting savings away for a holiday or an extension on your home. You can still sleep in on a Saturday morning – you just need to get organised and pack that picnic during drinkies on Friday night!
Before I show my hot tips on how to make a whole lot of money without working check out this cool infrographic that was sent to me!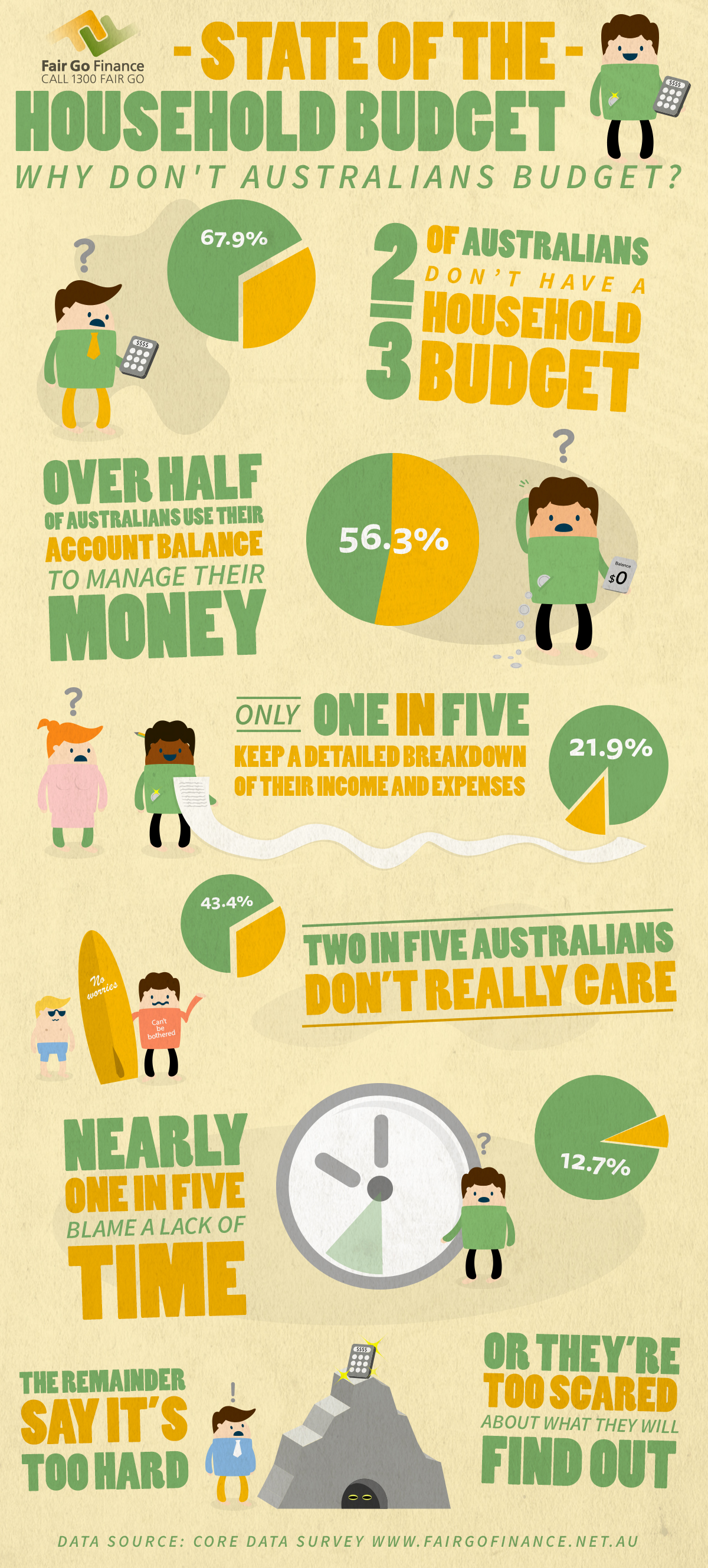 I love a good graphic! So…..
---
Here are my hot tips on how to make money and produce big weekly savings without working!
Truly – these tips are a win-win! $350 is half a wage! The action of getting particular about your budget and finances is a no-brainer. Start tying up all those financial loose ends and reap big benefits!
Save $11 a week: Slash your clothes bill by buying secondhand or getting hand-me-downs
Save $115 each week: Get organised with groceries using cooking systems like Table Tucker – Savings
Save $5 each week: Visit budget hairdressers or cut boys/ husbands hair with a buzz-cutter.
Save $20 each week: Bundle insurance and shop around. Talk to managers and get the lowest rate possible for that bundle!
Save $20 each week: Change your driving habits and save on petrol. Walk a few days a week to your destination and save money at the gym too!
Save $15 each week: Don't sign up for another mobile phone contract. Unlock your phone and get a sim from TPG internet. Big savings!
Save $20 each week: Bundle your home phone with internet using TPG or other service. Get an unlimited internet service so you can watch movies at home using an Apple TV or other.
Save $60 each week: Downsize your home. Move to a cheaper rental. You will save on cheaper rent but also on those expensive utilities
Save $30 each week: By downsizing you will save big on electricity and gas. The big savings are on heating and cooling.
Save $8 each week: Stop buying lottery tickets and put the money into a little account for little Johnny or Sue.
Save $20 each week: Make your own takeaway food. Keep battered fish, chips and pizza in the freezer for those moments of 'we want takeaway' weakness.
Save $5 each week: Go on a mission to never get a fine this year. Park in the right spot. Never run a light and get zapped by a camera. Think ahead.
Save $7 each week: Skip the new release this week. Close your video store account. Get an Apple TV and use it on your unlimited internet plan. Watch YouTube. Or get some different hobbies like reading a book or playing board games with the kids!
Save $20 a week: Make your own lunch everyday for the entire year. Set a challenge to never buy lunch this year!
Save $4 each week: Shop around for cheaper electricity and gas. Use comparison sites to find the best deals and make the switch!
Total savings? $350 for the week!
Now here's the clincher:
If you are not working extra hours to make money – you will have the TIME to continually do this process until your accounts are trimmed down. Take the fat out of your finances and live a better day! I feel fantastic every time I put my finances on a diet! This is a real win-win for my family!
Stay tuned for my next adventure in fat-free finance!
Want some great tools to help you make money & produce savings?
Learn how to keep track of your spending using easy money-saving printables. Work out your money and future using budgeting calculators.
Calculators for budgeting, finance and planning retirement
Over 50+ calculators to help you work out your personal finances and budget.
Read more to access hundreds of time and money saving cheat sheets & printables!
Printables for keeping track of bill payments
Bill Payments Log – Autumn
Bill Payments Log – Spring
Bill Payments Log – Winter
Bill Payments – General
Bottom Line Tracker
Debt Busters
Debt Buster Worksheet
Direct Debits Tracker
Simple Income Tracker
Read more to access hundreds of time and money saving cheat sheets & printables!