Imagine This
Imagine if you lost everything you knew, loved and took for granted.
Your friends. Your mum's trifle. The best coffee in town. A market fresh tomato. Live music on a Sunday afternoon. Shopping for shoes. Fresh seafood.
The ocean…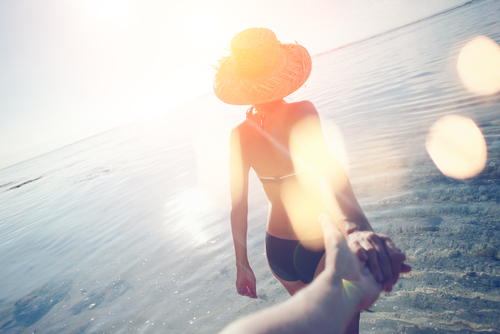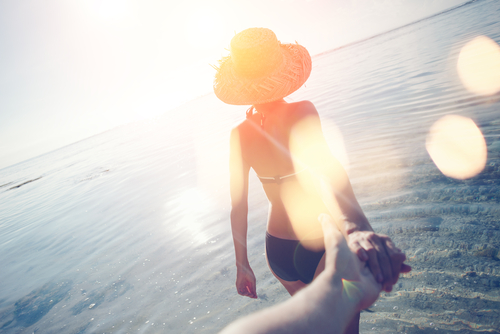 Well…
This is what happened to me.
---
How We Buried A Life & Dug Up A Dream
Today I'm sharing my rags-to-riches story of how my husband and I buried a debt-filled life and dug up a mortgage-free dream.
I'll also be talking about an option we didn't know we had. Credit repair through credit scoring.  Which might have changed everything that happened.
I hope you enjoy the ride. Because this story sure is a keeper…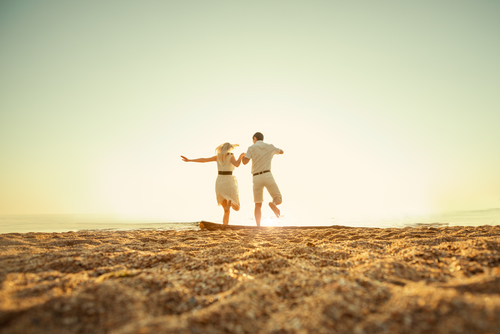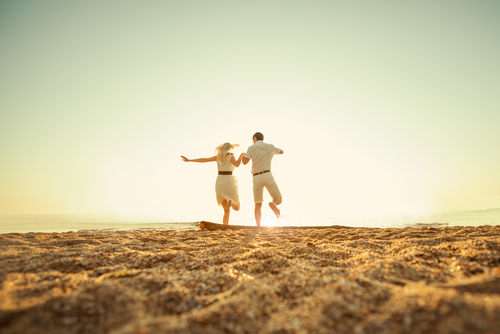 Read on to see what happened next.
Learn why we wish Credit Simple was an option we wish we knew we had…
---
We Were Having So Much Fun
So, there we were. Two kids – soulmates – pushing 30.
We were living it up in the city of Melbourne and having so much fun.
We spent our summers in courtyards, sizzling sausages, cracking open beers and swirling wine glasses in the air. We were sharing classic Aussie yarns.
I always enjoyed the banter. The city wit. The fast-talkers.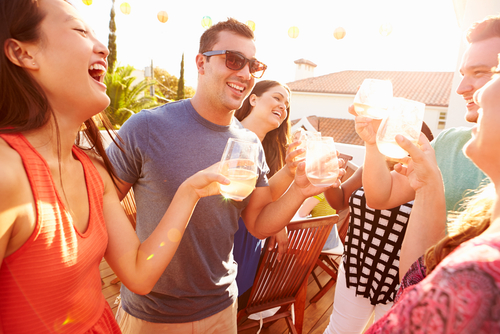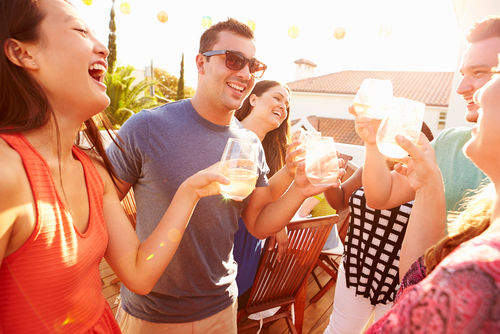 Winters were cosy intimate evenings in front of the fire. We'd huddle-in-close discussing everything – from the state of the world, to who won the footy, to 'what's this new thing' – Facebook?' Has anyone 'signed up yet?'
We'd dribble on for hours about all kinds of silly things.
---
But We Were Stressed
During the week, we stressed. We worked like dogs.
We'd be up at the crack of dawn fighting traffic. I'd cycle the Yarra to my job as a temp personal assistant. My boyfriend then (a signwriter) would jump in his tradie van. He'd be gone before the sun rose to hang signs before the parking wardens appeared.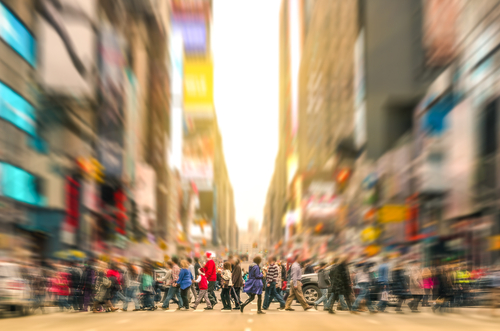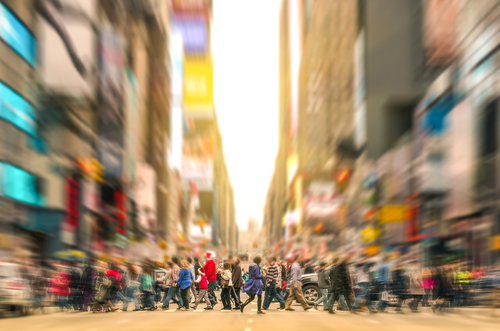 We'd drag our bones back to bed each night – to do it all over again – next week.
Long weekends were camping trips with those infamous drop bears and big lizard things… Aussies always tried to scare me – the kiwi – with those tales.
But, I was onto them!
---
Living In The Moment
We were all 'living in the moment.' We didn't want to think about getting old.
Getting old meant – marriage, kids, mortgages and feeling unfree. We put 'old' into the 'too-hard basket,' along with other things we didn't want to take responsibility for…
Including…MONEY.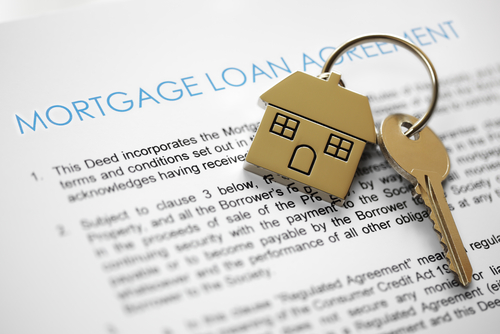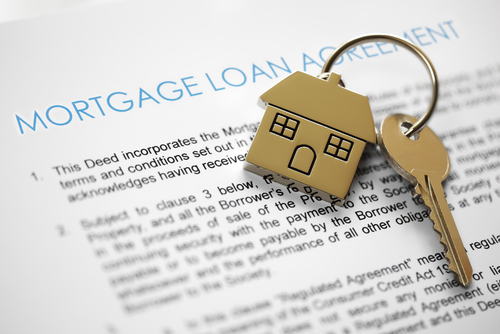 ---
A Moment Of Sanity
Then one day I was struck by a moment of sanity.  
I'm not sure what came over me. I think I actually did turn 30 – and I thought I was old. I decided to look into things. I laid our life out on the dining room table and took a good hard look at what we were really doing.
Deep down, we did want to know what our future held.
We wanted the works:
To have an inspired, creative but certain future.
 
---
Financial Disaster
What unravelled that month was shocking.
I found we had accumulated a debt of $50,000. We couldn't believe it either – how it all added up. We were like kangaroos in headlights.
What the?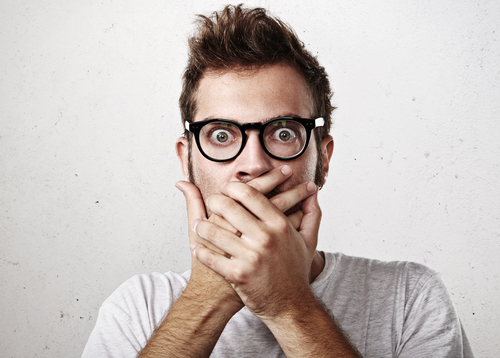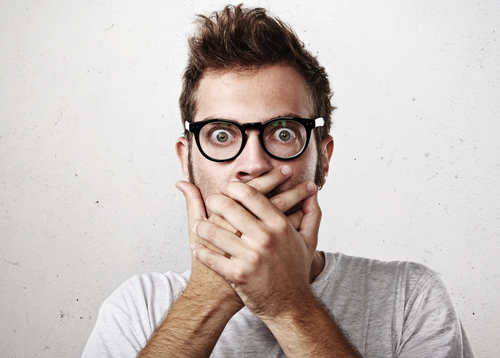 The debt was a mash-up of the following:
Credit card debt: We had bought stuff we couldn't afford. Those Saturday trips to Ikea and holidays to visit family in New Zealand all added up.
Personal loans and overdrafts: We'd bought big ticket items such as cars, couches, furniture and electrical goods to set up house together
Business debt: My hubby's signwriting business was threatened by new digital printing technology. We had supplier bills building up due to  cashflow problems and we weren't catching up
Tax department debts: We were inexperienced in business and were spending our tax. We also faced closing the business and there was a large cost in closing down operations & factory.
Plus: My husband – was 'over it' (and so was I).
---
Bills, Bills & More Bills
I remember the folder well. It was worn and fat with bills.
Before that day I called this: 'Filing.'
After that day I called this: 'Stupidity.'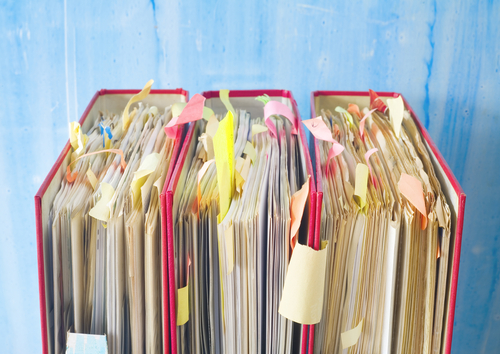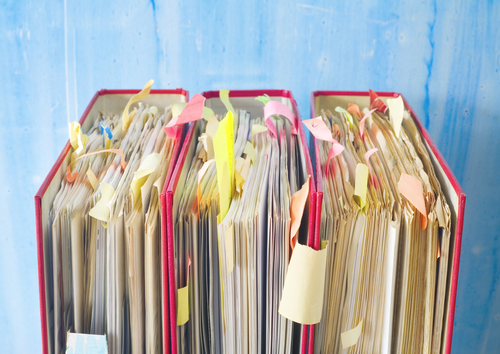 ---
Our Credit Score Then
Back then we didn't know our credit score or how to check it.
Our way of finding out was applying for something. If we didn't get it, we figured, we must have a bad credit rating. We also didn't know that not getting the credit could make our rating worse.
We both had a few blemishes:
I hadn't returned a video before leaving NZ for a four-year stint in Japan. Because I hadn't updated my address with the video store, my credit rating was adversely affected.
The movie wasn't even worth it!
In his younger years, my hubby had defaulted on a credit card. This blemish affected his rating for more than 10 years
We had both cleared the debts way earlier but our ratings stuck
– like mud.

---
Screwed
So. There we were on a treadmill and we didn't know how to get off.
This was the opposite of 'compound interest' This was 'compound debt.' The interest on our debt was growing daily.
We realised – we were screwed.

---
Our Options
At the time we thought we only had three options.
But – you'll see as this story unfolds  – we actually had four options.
And isn't hindsight grand?
These were the options we thought we had:
Option 1: Keep Slogging
Continue to work like dogs with all the city distractions and try to pay off the $50,000 debt.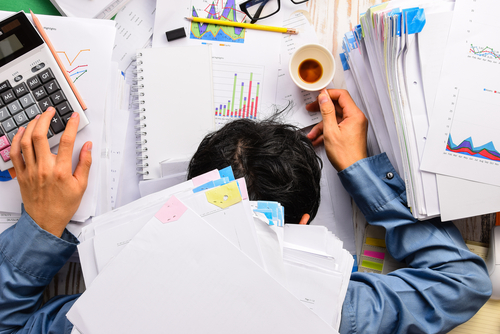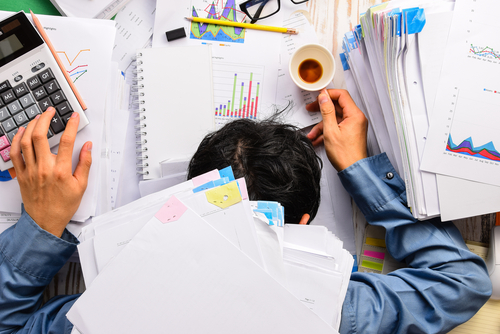 Bad option:
We'd be on that treadmill for years. City life was fun but expensive.  We weren't earning enough. We realised we'd never get anywhere. We'd thought we'd never buy a house, especially – starting off – this far behind.
Option 2: Bankruptcy
We considered bankruptcy.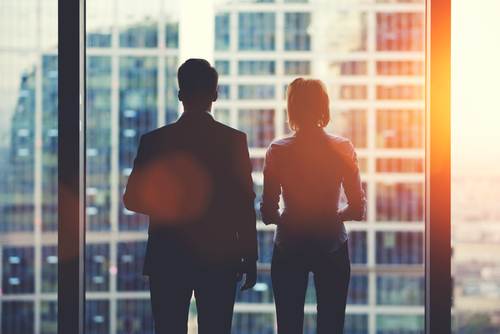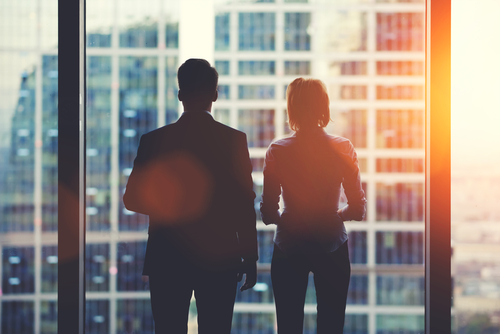 Bad option:
Deep down – we did want to grow old together and have a certain future. We couldn't bare the thought of ruining our prospects of buying our future dream home.
Option 3: Bury Life As We Know It
Go on an adventure. Take a working holiday while paying off the debt.
Take the tools out of Richard's tradie van
Build in a double bed
Hold a garage sale
Downsize our lives into the van
Drive across the Nullarbor in 48-degree heat with no air-conditioning
Get married on the way
Get jobs on the mines
And live in a small outback town – 600km from civilisation!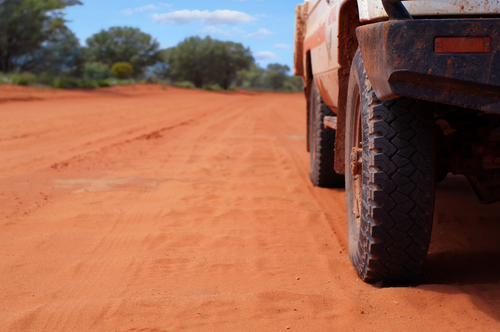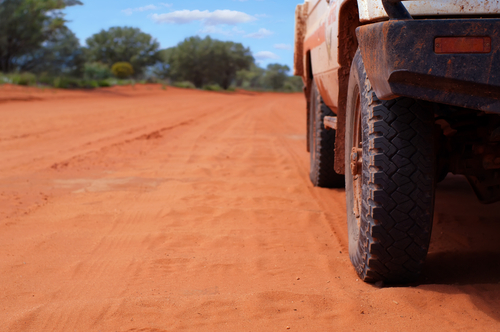 Good option!
Bury life as we know it. Get off the treadmill and go live in the outback with the Emus.
Well…
It seemed like a good idea at the time after a few glass of red!
---
Credit Repair: The Option We Didn't Know We Had
What we didn't know then, which would have changed everything that happened, is what a company called Credit Simple just launched in Australia.
They offer a FREE way to get access to your 'credit score' and credit record, which would have given us the option of repairing our credit and getting back on track.
Tip: 'FREE' is the optimum word here. There are already credit rating companies in Australia but none of them offer this service as FREE. Credit reporting costs approximately $120 AUD for an annual subscription.
Knowing our credit score and getting our report would have:
Helped us deal with the specific issues – those pesky blemishes
Given us the ability to own our data and find a better way – such as consolidating debt through a peer-to-peer lender
Helped us understand where we sat in the credit data pool and figure out the bigger picture
Motivated us to seek professional help including budgeting assistance, tax & business advice while we tracked our progress
Get your FULL CREDIT INFORMATION at Credit Simple
Receive your credit score and and FULL credit information (reports). Discover how your credit score compares by age, gender and community. You'll also be able to access insights on what it all means, plus get deals based on your credit score – such as credit cards and loans.
---
We may not have done what we did next…
As a city girl, moving to the outback felt like a death.
I literally felt naked without my comfy city distractions. I was terrified out in those conditions. The heat was harsh, those bush bugs were huge and the snakes were slithering around.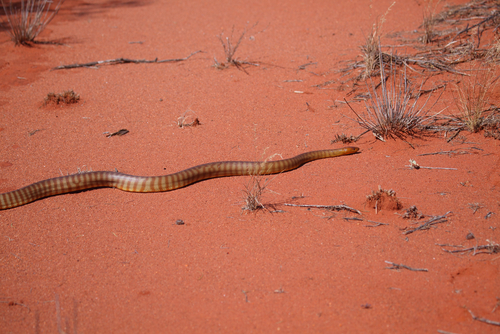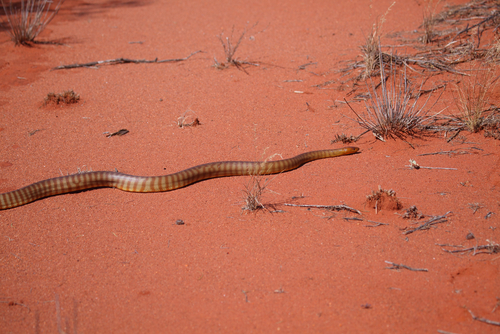 I didn't want to think about what else was out there!
I felt like we could disappear – in a puff of debt – and no-one would see or notice us gone – for months.
I was so far from home.
But I must say – this sure was peaceful.
The quiet made us look within rather than for external quick fixes – distractions. We got really really good at sitting on a porch, looking at the stars and talking to each other.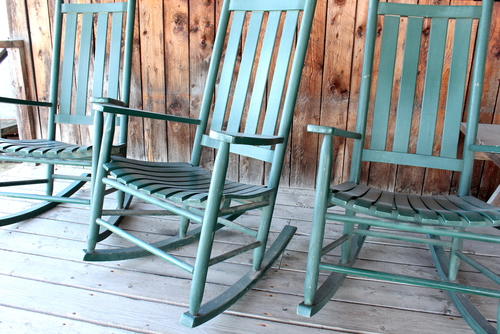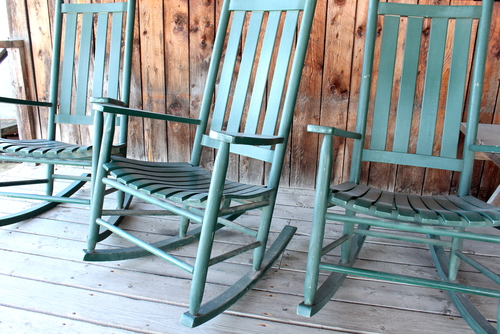 Life became – simple.
But boy…did I miss Myer!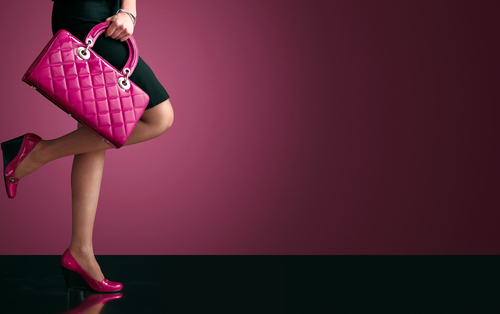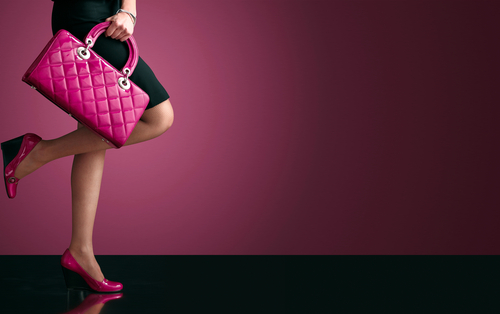 ---
Paying Off The Debt
Without our city distractions we could now focus on getting out of debt and fast.
Every day for a year my husband went underground in the mines as a truck driver. He then moved into explosives, which he loved! He was like a little boy on the farm again!
Note: No, we weren't earning $300k between us. I was earning a standard $60k and hubby's starting wage as a truck driver was $60k.
Read on to see the takeaway and lessons we learnt from this experience.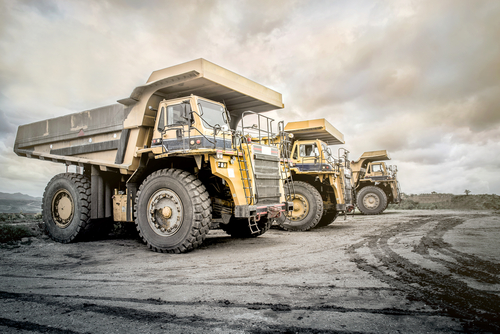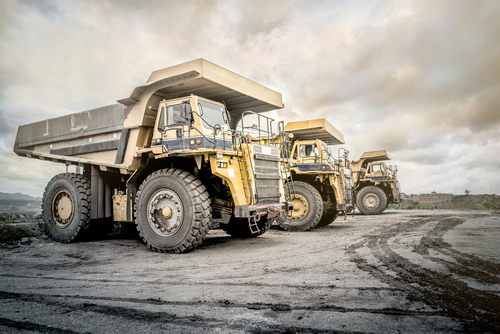 I worked as a personal assistant for a mining manager. I spent my first pregnancy in hard yakka gear, hard hats, steel cap boots and driving utes around the mines.
I gave birth to my first child Saxon – in Kalgoorlie hospital on a 48- degree day!
That was certainly unforgettable…
---
Diligent Bill Paying
Over time, our big folder of bills got smaller and smaller.
I stayed focused on the folder. I was obsessed with it. But then, I had nothing else to do but hang with that folder.
After one year – hubby and I gathered on the porch, raised our glasses and celebrated becoming completely debt free.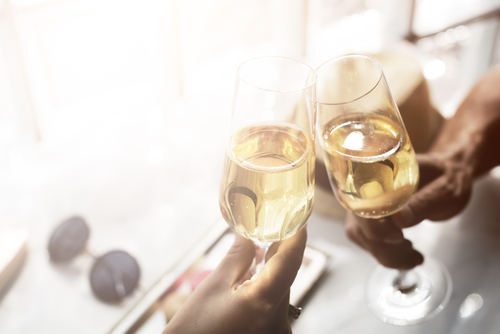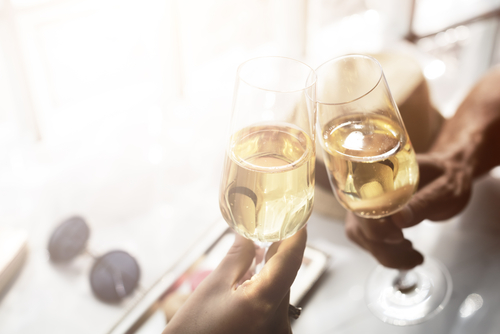 ---
Lessons We Learnt
This is my biggest takeaway from our outback experience:
It is NOT what incoming you are bringing in. It is what you are NOT SPENDING. 
For us, there were no shops or special deals to be tempted by. We had nothing to spend our money on.
I would go out on a Saturday to buy something (yes, I'm a woman!) and come back with an ice-cream. There was simply nothing to spend our money on out there.
Here are some quick budgeting and get-out-of-debt-tips
Pay your bills on time: Automate as much as possible. Make sure you always have the money in your account to match the deductions or you'll get defaults. Not good for the credit rating!
Manage cashflow: Use smart apps that send you daily reports E.g I use PocketSmith (as they have a forecasting feature) or GetPocketBook is also great for daily and weekly reports.
Track your credit score: Use Credit Simple FREE credit rating tools and get regular reports sent via email.
Put debts in a simple physical folder:  Watch the folder reduce over time. Also put pictures of your dream life in that folder. This is old school but makes a good visual and this really worked for me.
Remove distraction & temptation: Hide away in winter and pay off as much debt as you in quieter times of the year. Avoid browsing shops randomly & for no reason. This also works great for weight-loss. Make plans when there's less social distraction.
Set this goal: Aim to become completely debt-free life. Once debt-free only take on good debt.
Know the difference between good and bad debt: For example, bad debt is taking a holiday at Christmas on your credit card and paying 16% interest on that holiday for the rest of the year. Good debt is taking out a low-interest mortgage & watching your dollars work for you as your home goes up in value.
Don't let the banks upsell you: Don' take up offers to pull the equity out of your home, getting personal loans & credit cards
Constantly seek better deals and do this regularly
Deal with your financial demons – lay them out on the table – take a first step
Clean your finances as a habit – like you clean your teeth – slash expenses regularly, rinse and repeat.
As my favourite saying goes:

'Perfection is when there's nothing else to take away.'
Here are some lifestyle tips while paying off debt & saving money:
Get good at being bored
Socialise or holiday at home to avoid the costs of venturing out
Have a great conversation under the stars
Take up reading finance news, books & blogs while you are sitting in the garden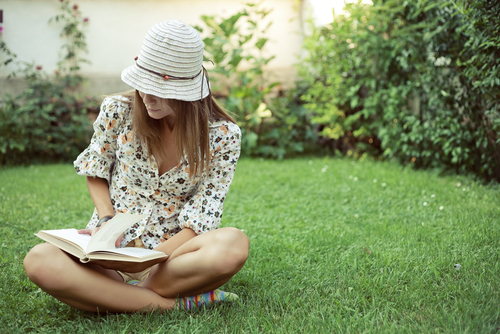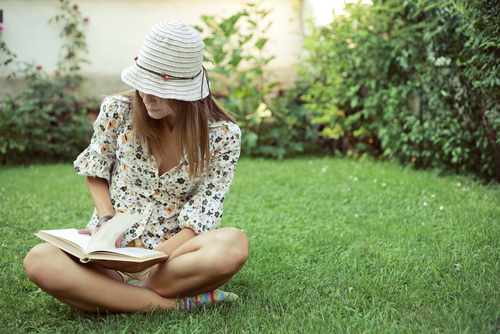 In short:
There's a lot of money in living a quiet life for a while – while paying debt, saving and getting ahead.
Less is more. Keep it simple.
---
Credit Repair
After Kambalda we skedaddled as fast as we could out of town– to Stawell (in the Grampians) in country Victoria
This felt like New York to us!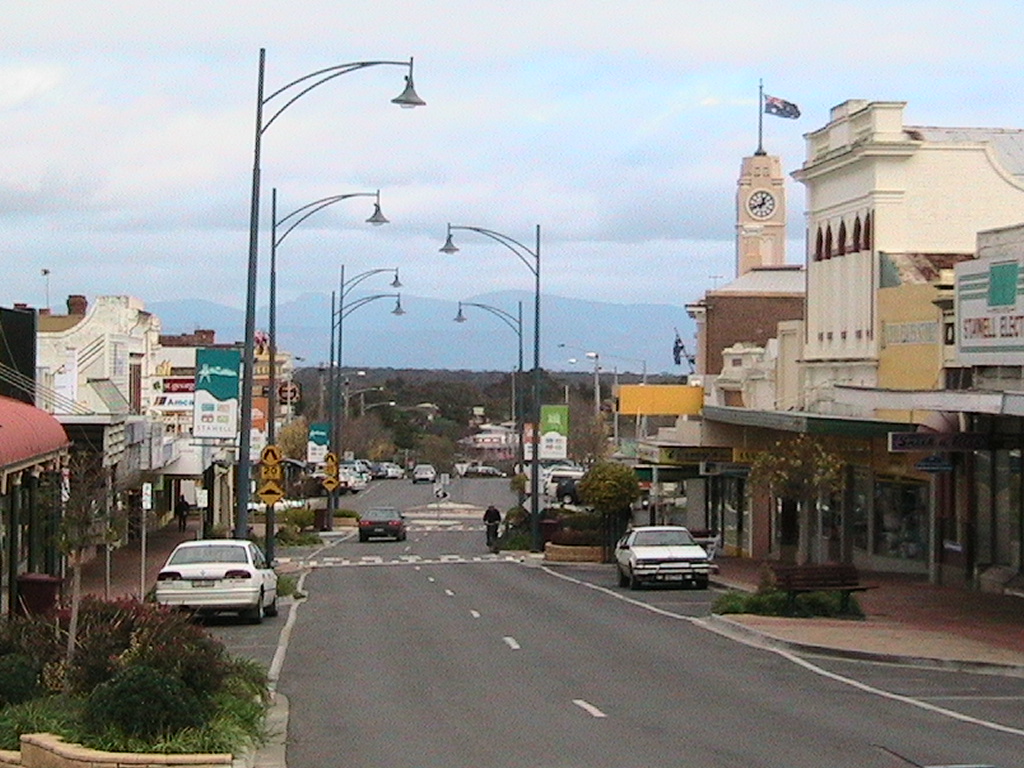 Here's exactly what we did to REPAIR OUR CREDIT RATING, and dig up our mortgage-free dream:
While this wasn't ideal – we bought a cheap low risk duplex country property with a low-doc loan using the first home-buyers grant
To repair our credit rating we paid all bills and our mortgage off diligently for the next three years, while we renovated out of wages
As soon as our credit score improved and our blemishes were gone we switched to a better loan
These days we'd do this through a tool like Credit Simple's Better Deals Finder
We continued to live a quiet country life
I wrote a book to keep myself busy – I still missed the city
We rented out the duplexes and moved back closer to Melbourne on the Mornington Peninsula
We rented for a few years while we established new jobs and careers. Renting helped build up a positive credit rating too – so we looked good to the banks.
Richard used contacts to establish a simple painting business servicing millionaire homes & I moved into blogging and web design.
We used the equity from our country property and saved a deposit to buy a new home
---
The Goal: Mortgage Free
The town we were living in (Mornington) was overpriced. We didn't want to pay that much and experience mortgage stress.
We looked at over 35 houses before making the decision to move elsewhere.
We purchased a house in a more affordable neighbouring town (Frankston).
This was Melbourne's last affordable beachside suburb
It still had a rough stigma – but only to locals – but not to new out-of-town investors
We bought a place 'with options:'
Subdividable (on a double block)
Had good bones (it was huge inside) but older
The mortgage was 'in our means' at only $370,000
We bought near facilities including supermarkets and transport to the city
The home is a 2-min drive to the beach
In the high school zone of one of Melbourne's best state schools
In a tourist area and at the gateway to Melbourne's playground for the rich – The Peninsula.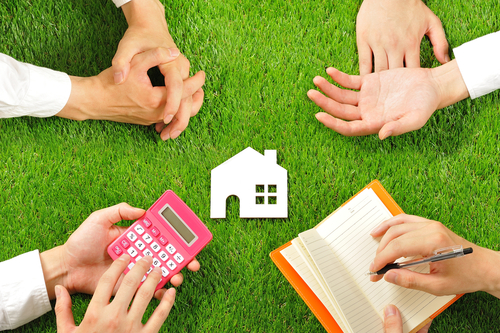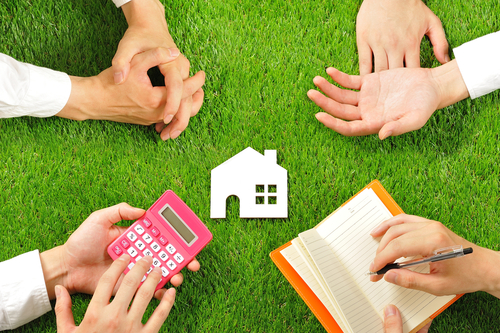 Here's what we didn't do
We didn't care what our friends and people thought of us
Some people looked down their noses at us for what they thought was a 'poor decision' and a 'low class' area
We didn't try to 'keep up with the Joneses' by buying flashy things
We never paid full price for anything and lived on Gumtree for four years
We never took up offers for the bank to rip the equity out of our home
We didn't sell our property when other people in houses around us were getting offers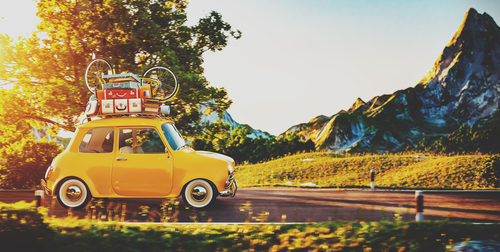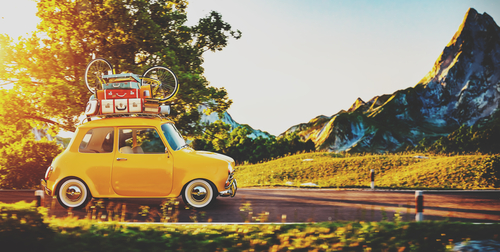 What we did do:
We saved $50,000 in total on our renovation (I wanted to recoup every cent we'd lost in the outback!)
We spent four years working like dogs in our businesses while paying for our renovation through our wages
We stayed patient and waited for bargains to appear
Looked for the 'potential' in everything
We were willing to inconvenience ourselves. For example, we drove 40 minutes to Melbourne to spend a Saturday ripping blinds out of a luxury mansion to save $5000. Worth it!
We studied home design, room planning and every DIY aspect of home renovation
We went with our gut feeling – always
---
Results
In total, we've saved more money on our renovation than we've spent.
We saved a total of $50,000 and spent $40,000 over four years to complete our home renovation and convert our home into a hot prospect for buyers.
---
Our Happy Ending
Recently I laid our financial life out on the dining room table.
The results have been shocking & exciting. We realised we've accumulated a small fortune.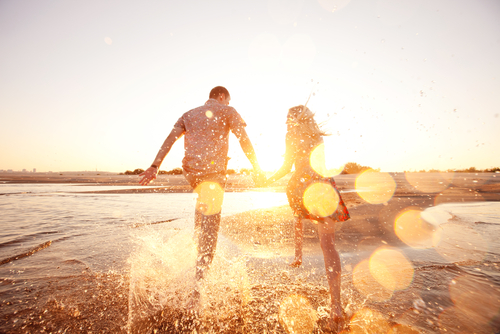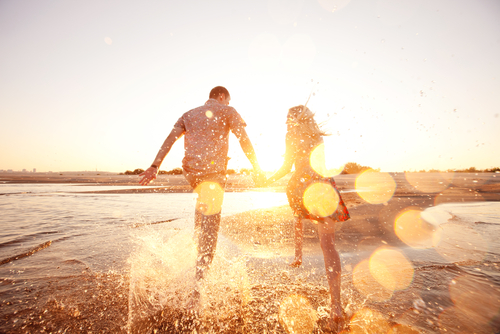 We couldn't believe it either – how it all added up! We were like hopping mad & happy Kangaroos this time. 
Option 1:
Keep the house and watch it continue to go up in value.
Get permits to develop our property further based on the 'options' I spoke about earlier. These options will essentially pay for our current mortgage, a new mortgage and give us change.
More on this option as it rolls out 🙂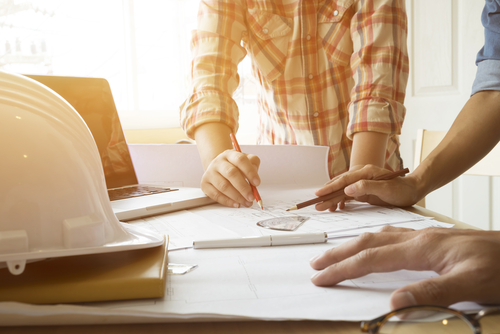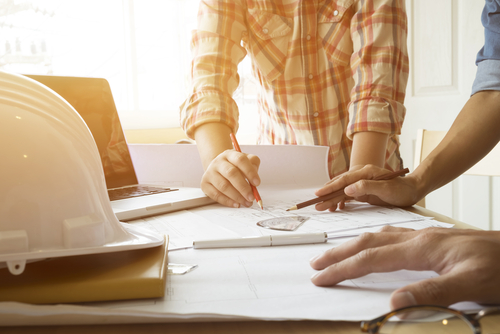 Option 2:
Sell to the developers knocking on our door.
Take the latest developer offer of $1.1 million
Pay the mortgage out and skedaddle off with approximately $750,000
Buy a new property for cash in the latest part of town showing 'potential'
Become mortgage free and say goodbye to the banks – forever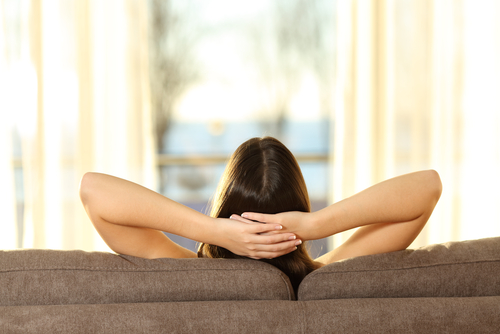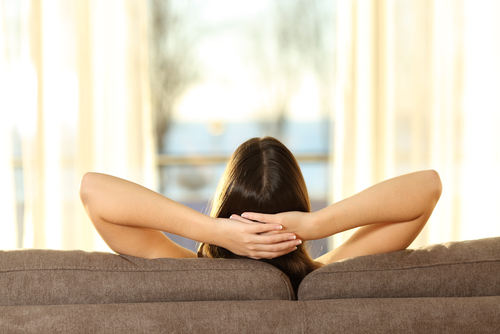 Option 3:
Sell the house. Put the money in the bank. And go on another adventure. Book the family into a resort in Fiji while we hang by ocean, eat fresh seafood while we think about everything.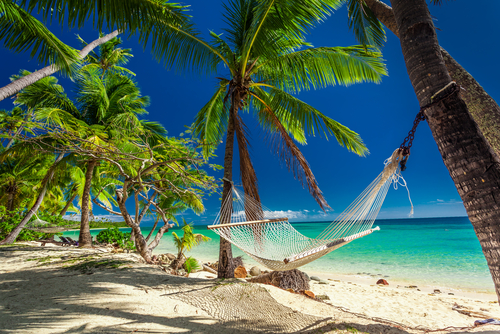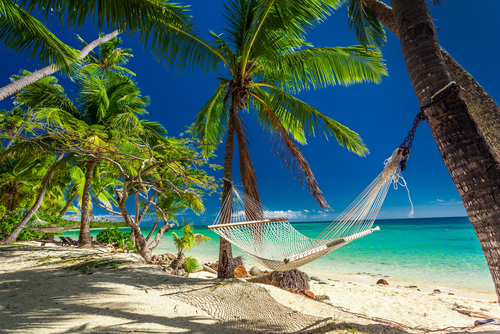 ---
Check Your Credit Score Today
As a couple, our average credit rating is now is 989. While our score isn't completely perfect yet – we've come a long way.
Our goal for 2017 is to achieve a perfect credit score and become UNICORNS.
Note: Credit Simple give the term 'Unicorn' to people who've achieved a perfect score. 
Here's what Credit Simple can do for you:
Find out how you can make your credit score work harder for you
Get targeted offers and insights based on your profile.
Tools and tips to help you understand your score and take the next step towards financial freedom.
Credit file monitoring with periodic email alerts when certain changes occur on your credit file.


---
Dig Up A Dream Today
Thanks for taking the time to read our story.
If you ever decide to bury a debt-filled life Give yourself some credit and dig up a simple dream.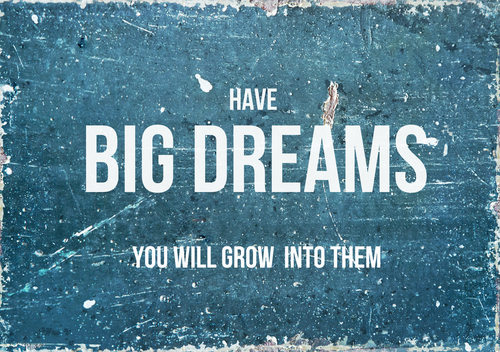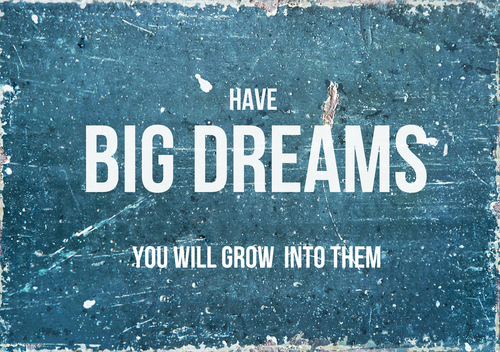 ---
Be sure to take advantage of the 30,000 saving tips here in the Savings Room – and start getting out of debt and building wealth today.
Not sure where to start your debt-free journey?
Start by checking your credit score at Credit Simple and then checkout this great resource: How to drastically reduce your grocery bill
---
Read our story at News.com.au


Note: This post is sponsored. The Savings Room and Credit Simple have collaborated to show Australians how they can repair their credit and receive their full credit reports for FREE.
While this post is sponsored, I personally endorse Credit Simple. I believe that obtaining full credit information is a vital step in the get-out-of-debt process and for future-proofing your finances.  I think it's valuable that this service is FREE for consumers. Penina